Crafting is back in fashion, very much so, and maybe you have a desire to craft the perfect ragdoll, a Waldorf inspired one at that!
The Polly Dolly Doo Dah handmade ragdoll sewing kit and patterns contain everything you'll ever need to craft a beautiful 18″ (45cm) Waldorf inspired dolly for the special little person in your life. We strived for perfection when creating our kits which not only contain a comprehensive instruction manual but all the fabrics and notions as well. What could be more perfect.
But if the thought of creation is too daunting for you, then we also have a small selection of ready made dolls available as well.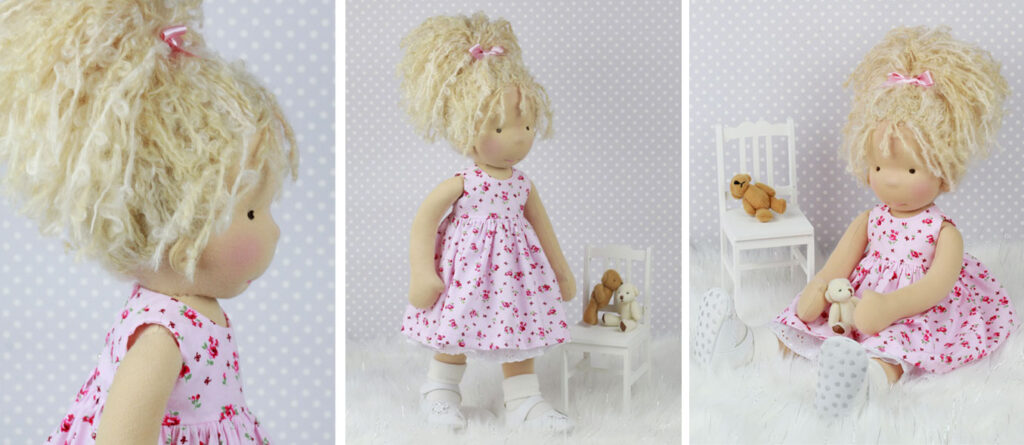 If you missed my LIVE TV debut on Sewing Street, here's a chance for you to catch up with it. 
This is a recorded version and the promo has now expired.
So How Do You Make a Polly Dolly Doo Dah ?
I've put together a brief 5 minute video clip giving a brief insight into the 13 steps that it takes to make the most perfect little Polly Dolly Doo Dah!
Sometimes it can be overwhelming to start any new crafting project, but we have your back here. Sherrill, our doll maker, will be on hand to answer any questions you may have as you work through your handmade ragdoll sewing kit.
Check out my Support Page.
Print at Home Instruction Manual
If you'd like to just purchase the instructions on how to make a Polly Dolly handmade ragdoll (without buying all the fabrics that you may already have to hand) you can do that too. The fully comprehensive instruction manual has 43 pages along with 120 photos and is available as a PDF instant download.
We have a gallery album of our Polly Dolly's. Check out what the best dressed little dolls are wearing …
Wouldn't you just love to make this Dolly
Creating the sweetest little expression
Designer Cotton Dress Fabric
Only the best for your dolly
Fully inclusive instruction manual
Includes all the fabrics as well
Looped Mohair Yarn for the hair
Are you Ready to Create Your Special Handmade Ragdoll?
Maybe you have some questions you'd like answering
Polly Dolly Doo Dah
info@pollydollydoodah.co.uk
Southampton UK
Tel: 023 8194 2429